My Favorite Christmas Memory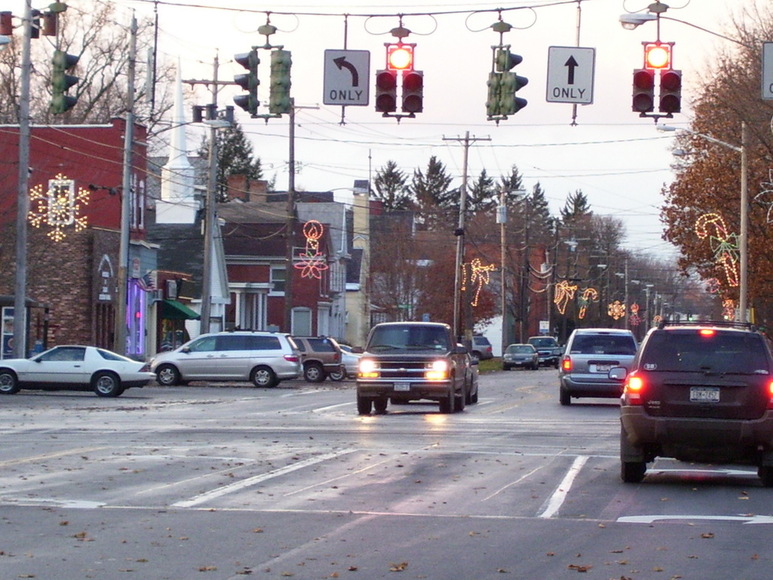 When my husband and I got married we moved back to Cortland, NY where I had just graduated from SUNY Cortland. I had never really appreciated the town itself, since I was from a big city and the town had very little to offer me. When I had been a student all I knew about the town were the bars, a restaurant and the only diner.
When we moved back we didn't really explore the town. I was teaching every day and the only trips we took to town were to go to the huge, cavernous movie theater, the supermarket and the laundromat. It would have been very lonely for both of us, but my husband had school during the day and work. My teaching took me to the neighboring town of Cincinnatus, which was so small it would have fitted into Cortland with space to spare. The weather was cold and snowy, since Cortland is right in the middle of the snowbelt. We were both feeling a little down at the holidays, because we hadn't been able to get back to the city where all of my relatives lived.
So my husband decided we would try to have our own holiday celebration. Of course we celebrated Chanukah, but he remembered when he was a boy and had celebrated Christmas. He went out and got us a tree. It was more like the tree in "A Charlie Brown Christmas", but it was a little fuller and half the size of a normal tree. We put it on a stand and decorated it with brand new ornaments we bought together complete with the lights. I was delighted, because I had never had a tree in my place before and this had been such a dream for me.:) Then we decided to give each other presents and allotted one day for the shopping.
We walked over to Main Street, which was a few blocks away. We couldn't have driven there anyway, since we didn't have a car yet! We were living in a tiny one and a half bedroom apartment and paid only $65 a month for it.:) This was back in 1965 when prices like this for rent were the usual in small towns. So when we got to the Main Street we divided and went our separate ways. We had each given the other a list of the things we might like. I explored the possibilities for shopping and found a department store where I could find everything I needed. I also found a few other specialty stores as well. Having had each gift wrapped for me, I met my husband again and we walked back home. Each of us had a secret smile on our faces. But we had to put our gifts under the tree. It wasn't Christmas yet and we didn't want to spoil the surprise.
Finally Christmas Eve came and we couldn't wait any longer. Our tree was there in the middle of our living room with its pine scent and bright colored lights. We unwrapped each other's presents and the only thing I remember from it is a beautiful dress with a design of a Mondrian painting on it. It had big squares colored red and blue and white with black lines surrounding each one. I had also knitted my husband a sweater and he loved it.:) Standing in the middle of the gift wrapping wearing my dress I finally felt like we were a family and that someday we would be surrounded by our future children. I didn't realize that this would be the last Christmas that we had a tree, but I will never forget it and it was the best Christmas I ever spent.